Finding My Maternal Family Roots
Many folks search for their paternal surname before searching their other lines. Since it is their surname, it is a common starting place. However, do not neglect your maternal lines. In her Genealogist in the Archives blog, Melissa Barker reminds the reader how often these family lines may be more interesting or offer new pathways to discover.
Nearly all of my family on both sides came to Kentucky in the 1800s from Virginia or North Carolina. Frankly, it is the same story over and over. So-and-so, a Revolutionary War Veteran, claimed his Kentucky land grant and raised a dozen kids. While I am proud of my roots, these research projects get boring and predictable.
My father's maternal line offers more intriguing tales. They were mostly Irish. Part arrived in New Jersey in the early 1700s and the other side in the 1850s. The earlier group had more wealth and lived in many states prior to the railroads carrying them to Kentucky. The latter group arrived while famine was ravaging their beautiful Irish homeland. Their story was one of finding the American dream in Montgomery County, KY.
If you haven't already started this research, maybe your grandmother's family can beguile you with an epic saga full of danger and triumph.
In this post, you will learn some surprising places to find your female ancestors along with some tips for finding her maiden name. Then you'll be ready to discover your maternal lines.
Unexpected Places to Find Female Ancestors
Prior to the early 1900s, women were largely seen as the property of either their husband or father. If a father or husband passed away, this could leave a gal in a precarious situation as far as the government was concerned. Lucky for you, the early records, such as Littell Law Books, might contain clues to further your research. You might find your grandmother when looking for your grandfather.
Check the Various County Lists
If a male landowner passed away, his widow was on the tax list. Check the FamilySearch Catalog where you can explore the tax lists for many Kentucky counties. If she appeared on the tax lists, then you gain several clues: what year the husband passed, where they lived, and her first name. It also shows that there were no males over 21 to take responsibility for the taxes, so make sure you check subsequent years to learn what happened.
The Kentucky General Assembly granted divorces in early Kentucky. You might not find the marriage certificate, but the divorce decree had her first name and possibly showed who got custody of the children. In 1838, the assembly gave limited voting rights to females who were the head of household in rural areas. Maybe you can find her on a voting list. Who knew Kentucky was progressive in 1838?
Women have a complicated relationship with property in Kentucky. Many times, property passed from a father to his daughter's husband. Throughout the 1800s, the Commonwealth granted women control over their property. When looking for women, some deeds might contain her name. You might discover she was the owner or gave her husband permission to sell the land. Do not presume that your grandmother is always missing from these records.
Consider the Impact of Historical Events
The Civil War (1861-64) claimed the lives of many young American men. Nearly 30% of the 100,000 Kentuckians, regardless of race, who fought in the Civil War died. While society wanted a woman to find a husband, this war created a supply and demand issue because of the shortage of marriageable men. When looking for a female ancestor following these military events, consider that she could not marry or perhaps it explains why she married an older man. After other major wars, keep this trend in mind.
Speaking of unmarried women, city directories are full of tasty tidbits. Without a husband, this lady had to survive. The city directory might reveal her location along with her occupation. The directory might list her as a widow, which again confirms a year range for her husband's death.
Was Your Female Ancestor a Rebel?
If she had some notoriety, you might find her along with her dirty deeds in the local newspaper. Perhaps misfortune found its way to her doorstep when her family member tragically died.
Be open to learning that your damsel was the one causing the distress. Maybe she followed her lover down the wrong path much like Bonnie Parker did when she met the dastardly handsome Clyde Barrow.
Tips for Finding Maiden Names
When researching these maternal lines, you might struggle with finding your grandmother's surname. Use the following list as a guideline.
Marriage Paperwork
The marriage certificate is an obvious place to look. This works great when it was her first marriage, otherwise she might have used her former husband's name, which will not help you much. In early Kentucky marriages, her father gave permission, or a bond was arranged with the family. Her maiden name is revealed there!
Newspapers
Your female ancestors might be in the society pages of the newspapers. For instance, if she married it listed her parents' names. Later, a family member, such as an unmarried sister may have visited her home from out-of-town. Her obituary listed surviving family members including parents and brothers.
Tip: When searching for a woman's obituary in the newspaper, use her husband's name. Many are listed as Mrs. John Doe instead of Mrs. Jane Doe.
Divorce Records
In early Kentucky, the divorces were handled by the Kentucky General Assembly and the female's maiden name was restored. The record may have listed her maiden name. Sometimes the children even took her maiden name after the divorce.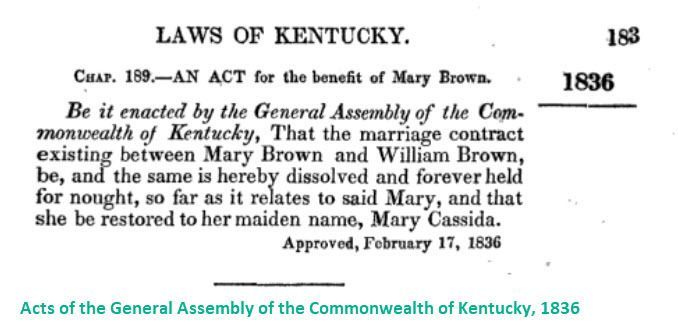 Death Certificate
A death certificate lists the parents' names. A word of caution: consider if the informant was truly informed. The person who provided the information may not have known the parents and just made a guess. It is also possible the person mistook a step-parent for the birth parent. Don't forget the obituary – her parents might be named or her brother.
Census Records
Often, one spouse outlived the other. It was not uncommon for the surviving parent to have lived with the daughter's family. However, do not forget to scan records of any known siblings. You might find the parent lived in their home along with that desired maiden name.
Tip: Watch ages closely in the Census records. Some women felt pressured to regain their youth and provided a younger age for themselves.
Birth Certificate
A birth certificate is an obvious place to look. However, you may discover some surprises. My great grand-daddy was a notorious ladies man and not all of his children have his name.
As you learned, there are many places to find your female relatives and their family names. Don't neglect these family lines or assume they are not worth the effort.
---
Editor's Notes
Your time is well spent understanding women's property rights, but larger than this article. Roseann Hogan provides an excellent overview in her Kentucky Ancestry book.
Don't forget about your common DNA test kits, which is based on your mitochondrial DNA (your mom!).