How and Why the Kentucky Counties Formed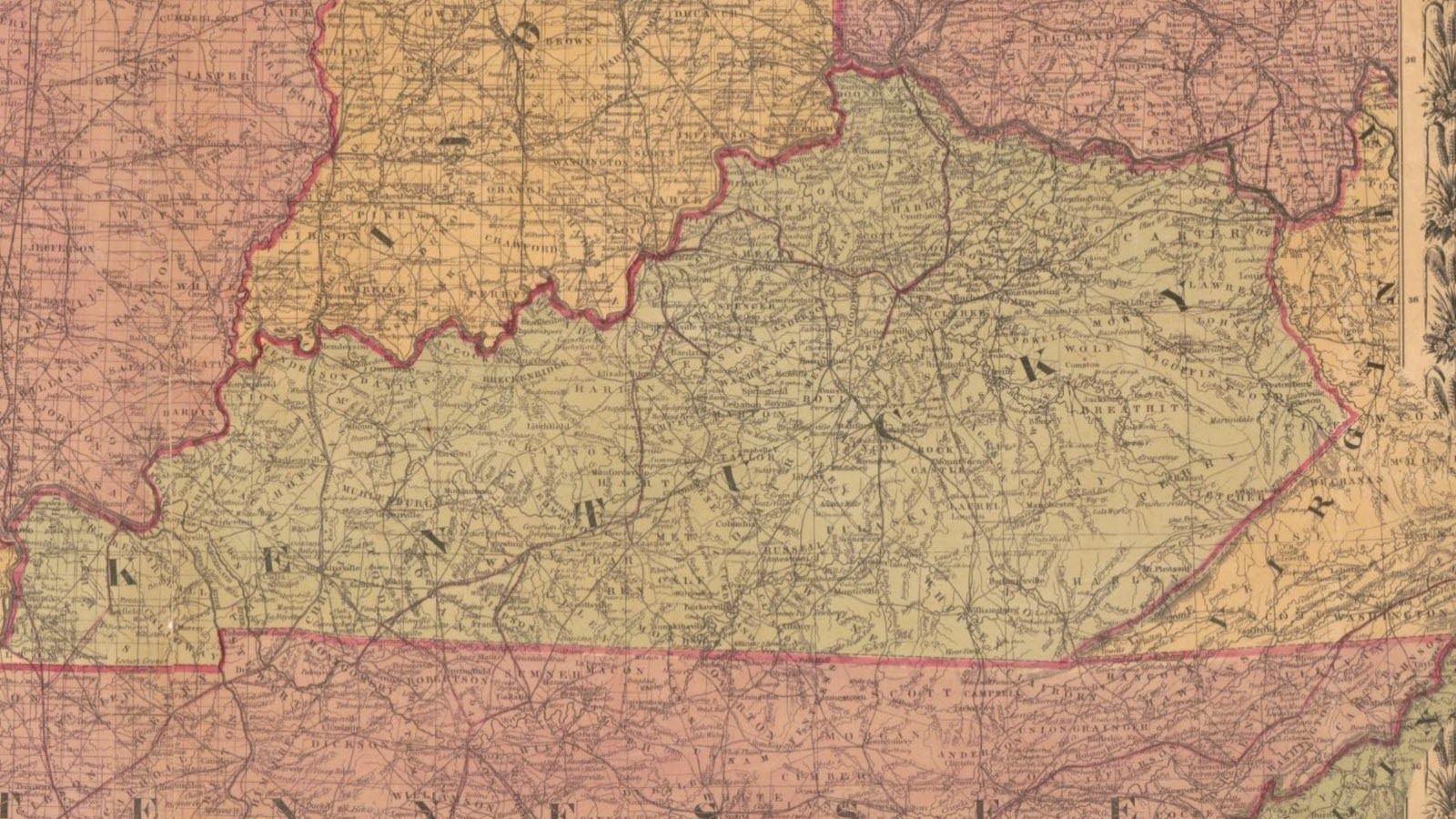 Kentucky has a fascinating history, even if you don't go back any further than when the state was formed. In 1776, Virginia made a separate county of Kentucky. Soon after the end of the American Revolution, a separation movement began in Kentucky.
Early Kentucky Settlers
Boonesborough, Harrodsburg, and Logan's Station (Lexington) were established in 1775. These three settlements were typical of frontier forts, consisting of log cabins surrounded by a defensive stockade. 
Settlers faced frequent Indian attacks and nearly starved to death during their first winter. In fact, it is said that only Daniel Boone's ability to hunt kept them alive until spring.
Nevertheless, they survived and flourished thanks to ingenious farming methods pioneered by settler and surveyor John Filson. His methods enabled them to produce enough food on each farm to support families, plus have surplus crops for trade with other settlements in what would become later known as the Bluegrass region.
Kentucky Counties Start to Form
In 1780, Kentucky county Virginia, was divided into Fayette, Jefferson, and Lincoln counties.
By about 1783, most residents of Kentucky district were not from Virginia, but rather from North Carolina, Pennsylvania, Maryland, and other origins. Agitation for separation from Virginia increased. After nine conventions, a constitution for the new state of Kentucky was completed in 1792. [Learn about Kentucky Land Grants.]
Kentucky Becomes a State
Before statehood,  Kentucky carved six more counties out of the first three: Nelson in 1784; Bourbon, 1785; Mercer, 1785; Madison, 1785; Mason, 1788; and Woodford, 1788. Thus, Kentucky entered statehood on June 1,1792 with nine counties.
The new state needed a governor, and there was only one man for the job: Isaac Shelby. Originally from Virginia, Shelby had spent many years serving in various political offices. As a general in George Washington's army during the Revolutionary War (1775-1783), he gained much leadership experience.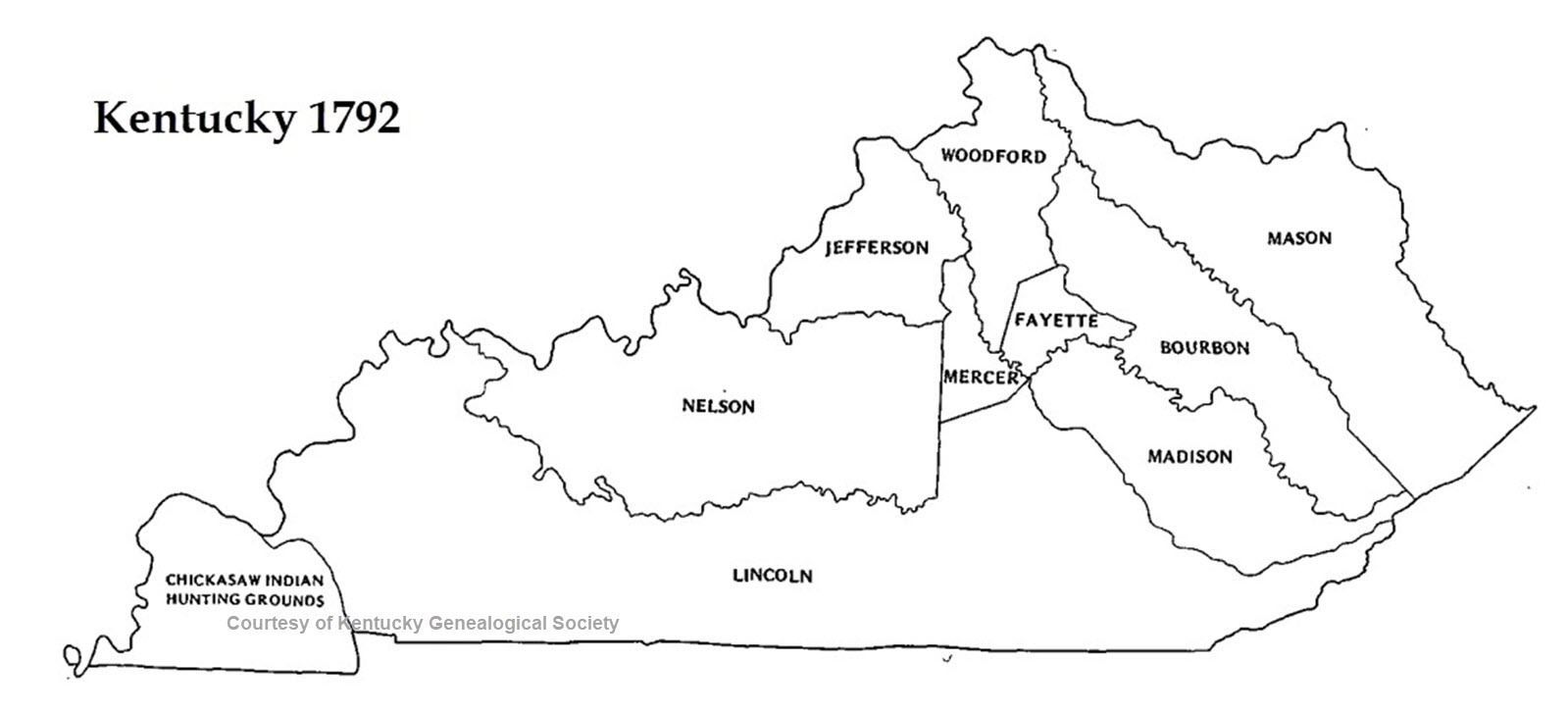 Dozens of New Counties Created by 1818
Kentuckians were soon dissatisfied with their 1792 constitution, and in 1799 they wrote a second one. The new constitution delegated great power to counties, and they became the most significant agencies of government.
As Historian Steven Channing says, "Kentuckians were capable of creating - and did create - new counties at the least provocation."
There's a much more practical reason the counties began to form. Tax collectors at one time would visit the landowners to collect the money. Once the population grew, this method was not practical so the citizens had to pay the taxes at the courthouse.
If you were in a large county living near the border, it may takes days to travel to and from the courthouse. Thus, the lawmakers decided each taxpayer had to live within a day's ride to the courthouse. Thus as the population continued to grow, so did the counties.
By 1818, as county formation mushroomed, the map of Kentucky looked like this: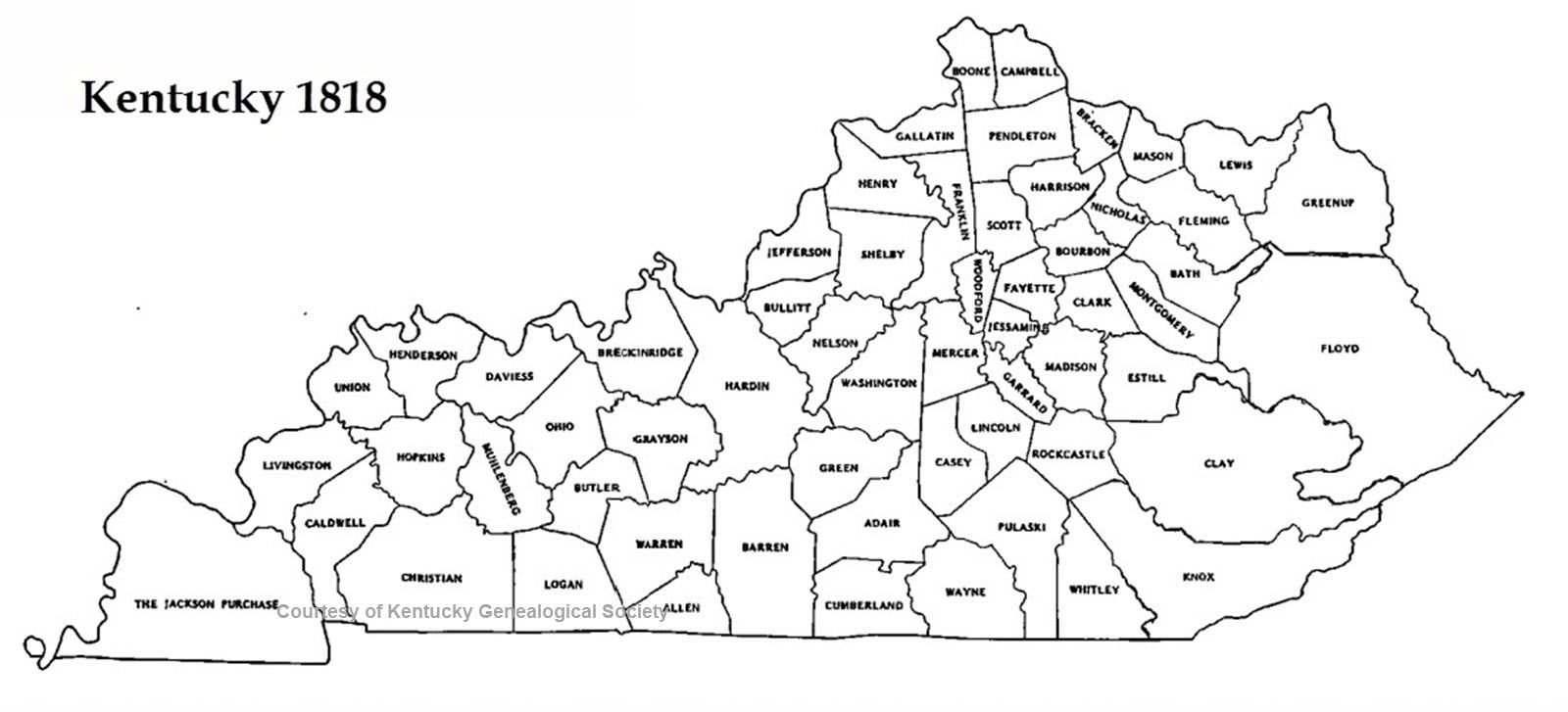 Map Nearing Completion by 1855
The headlong rush continued to create new counties that could accommodate horse-and-buggy transportation, as well as local pride and individual ambitions.
By 1855, Kentucky's county divisions were almost complete, except for a handful of counties yet to form in the mountains of southeastern Kentucky.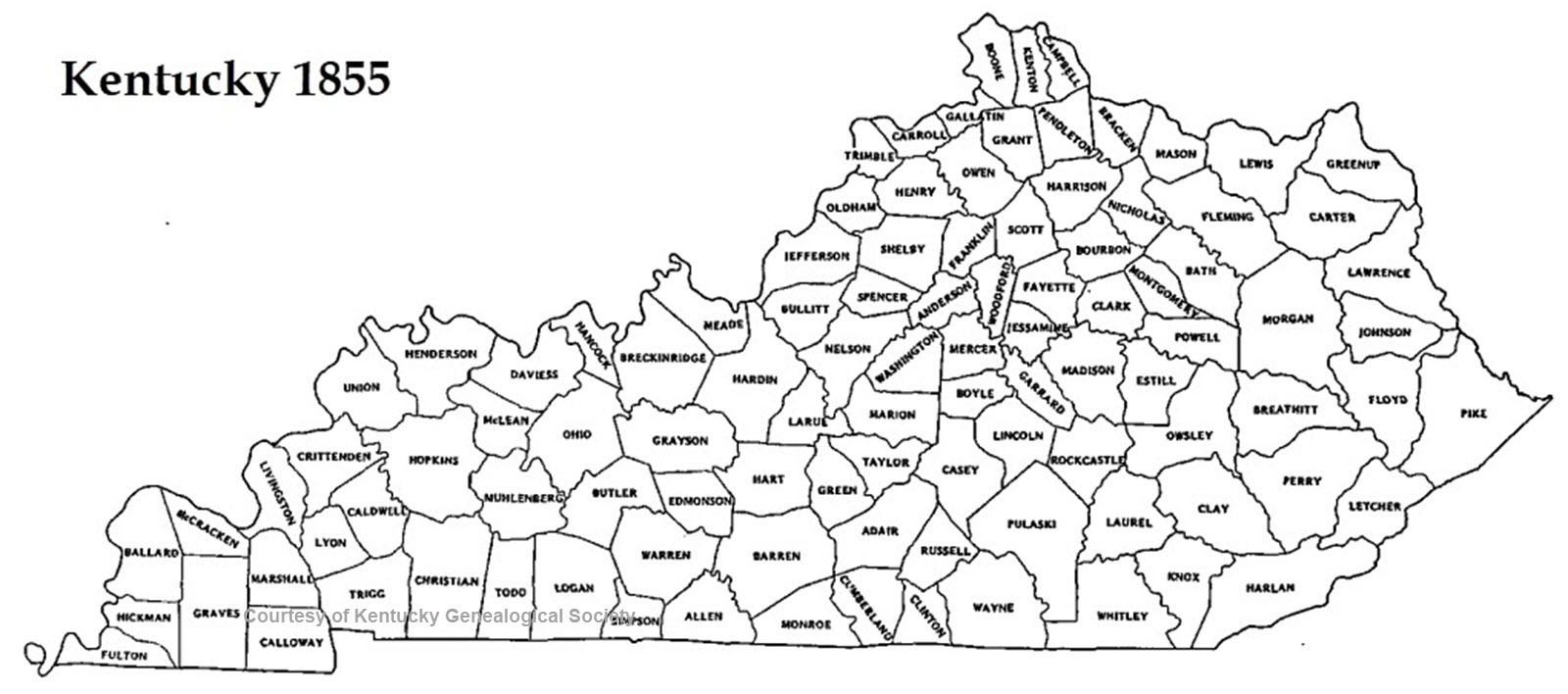 Kentucky Since 1912
Kentucky's last new county — McCreary — was created in 1912. This gave the state a total of 120 counties, more than any other state except Georgia and Texas.
Steven A. Channing says the abuse of the powers of counties by local political cliques "ultimately shaped the political culture of counties throughout the state ... and became a poison infecting citizens at every level of government and contributing to a virtual paralysis of the political and economic will."
Here is Kentucky's county map as it has remained since 1912.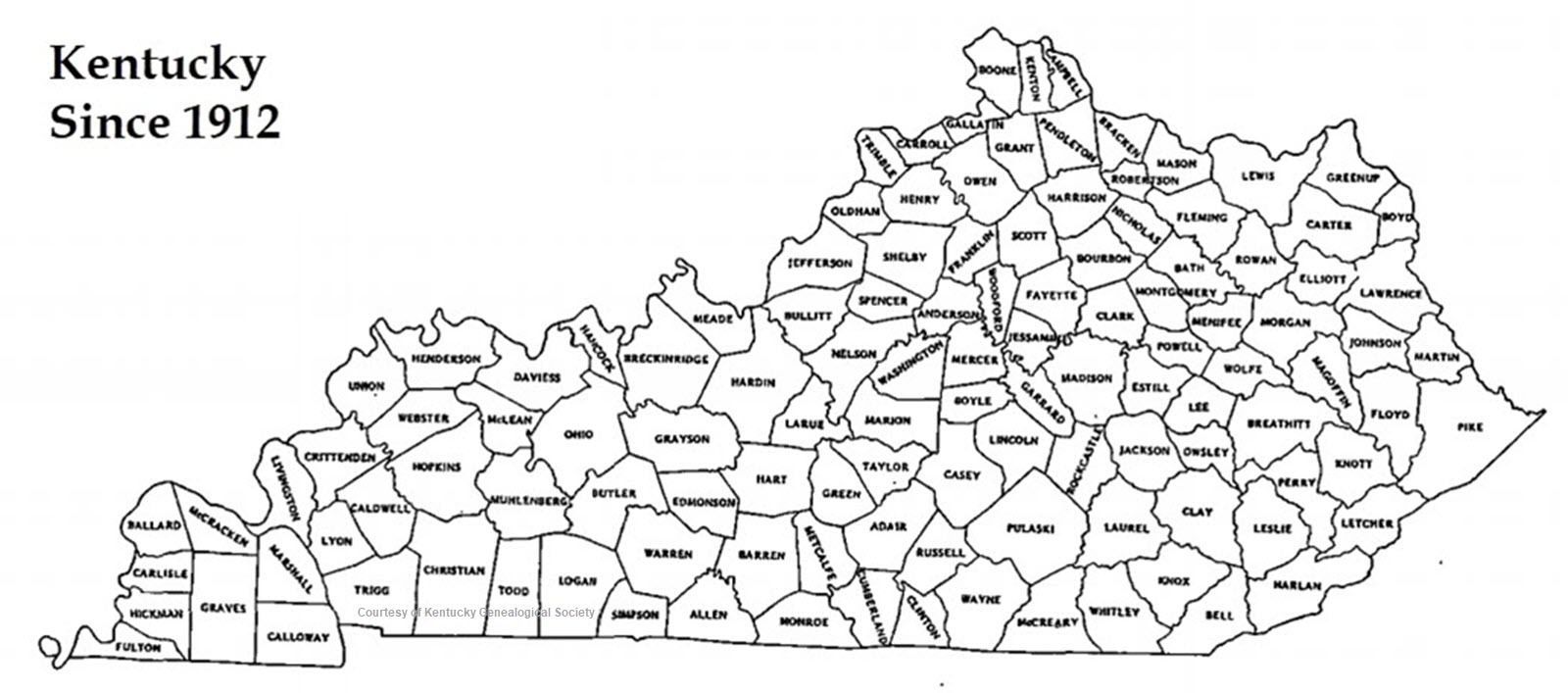 Today, Kentucky has many attractions that you can enjoy as you explore your ancestry, whether that's learning about famous Kentuckians like Daniel Boone or Abraham Lincoln or taking in the natural beauty of the state's caves and wilderness areas.
Other References: