Beckham County's Fifteen Minutes of Fame
Beckham County was formed in 1904 and disbanded in 1904. It remains the only county in Kentucky's history with the distinction of being dissolved. At its formation, Beckham became Kentucky's first 120th county, named after then-Governor J.C.W. Beckham, who approved the legislation for its creation on February 9, 1904. The county was formed out of portions of Carter, Elliott, and Lewis counties in northeastern Kentucky. Beckham's formation came at a turning point in county governance.
A review of the history of county formation up to this time, the circumstances surrounding Beckham's creation, and the characters playing a part in its story, offer a unique opportunity to explore the role counties have played in documenting the past of Kentucky.
The General Assembly Deals with County Business
The county in Kentucky has always exercised an outsized influence.  However, the impact of the county was becoming so overbearing in the nineteenth century that steps were taken to try and corral the inflated influence they had grown to exercise. During this time the "Kentucky legislature had become in many respects nothing more than a codifier for special and local interests"[1], it's business dominated by the demands of the commonwealth's counties.
While efforts at reform had been made, prior to 1890 they had all failed. Commonwealth business became so bogged down in local matters that the state was eventually forced to revisit its governing document, first in 1851 with its third constitution, and finally drafting the fourth and current constitution in 1891, in large part to address the imbalance of power and proliferation of local authority.
In the intervening 40 years, between 1851 and 1891, the legislature was called upon to redraw county lines 200 times. By 1890, the need for a new governing document was driven home by the extreme number of statutes each legislative session was being forced to deal with concerning county government. "Anywhere from 150 to 250 statues of each legislative session normally concern some aspect of county government." [2]
Kentucky: Growing Three Counties into 119
By 1891, Kentucky had exploded to include 119 counties. Kentucky had become the fifteenth state in the union in 1792, a hundred years prior. Nearly the entire state originated as Kentucky County, a single county which was part of Virginia, that was split into Fayette, Jefferson, and Lincoln counties first before further division of up to 9 total counties, before achieving statehood.
Those nine counties multiplied by 1820 to over 60. Though thirty-seventh in size among the states, Kentucky would add enough counties to rank third in total number, behind only Texas and Georgia. "Already possessed of 100 counties by 1850, Kentucky added 19 more in the next forty years." [3]
Going from 9 to 119 in those first 100 years of statehood, the proliferation of Kentucky counties led to one Kentucky historian noting that "Kentuckians were capable of creating, and did create, new counties at the least provocation."[4]
The 1799 state constitution is partially to blame for the exponential growth. The constitution granted exceptional power to counties, making them the most significant agencies of government. Accommodating ease of travel to county seats was often the practical reason, or at least the claimed reason, for the creation of many counties as citizens needed access to these economic and political centers to pay taxes, engage in trade, or visit the courthouse, and in general to transact commercial and legal business. As the population grew, so did counties that could accommodate travel, recognize local pride, or help the politically ambitious claim positions of power. [5]
Chesley Zimmerman's Legal Strategy
In addition to the responsibilities for governing their constituents, each county was also charged with documenting information about those citizens, particularly after 1852. It is the information from these records that allows us to trace the history of our families, tell stories about our past, and demonstrate how the past impacts the present. Records like those of Chesley V. Zimmerman.
Born to Elanor Zimmerman in 1857 in Greenup County, Chesley married Luella A. Nelson on September 20, 1884. He became a prominent businessman in the community of Olive Hill in Carter County, and was referenced in the newspaper the Mt. Sterling Advocate in 1899 as one of the leaders of mercantile business in Olive Hill.
Around this time, passion in the region led to calls for the creation of a new county that would promote his town to that of County Seat. [6]
The Governor, J.C.W. Beckham, namesake of Beckham county, approved the legislation and was given authority to appoint the first county authorities until an election could be held to choose them. His choice for County Judge was Chas Campbell Brooks.[8]
Brooks was born on November 12, 1838, in Virginia to James Brooks and Polly Asbury. According to the Mt. Sterling Advocate, "(he) lives at Olive Hill, and is at present in the employ of The Harbison-Walker Co., superintending their line of railroad. For several years he has been connected with railroading. He was a Captain in the Confederate army. We heard that he was very surprised that he should be honored." [9]
Did the County Meet the Criteria?
As Beckham County Judge, Brooks and Zimmerman's paths soon crossed when C.V. Zimmerman was called to court and found responsible for a $70 judgment. While the specifics of this case remain lost to history, Mr. Zimmerman's response was loud and clear and would have lasting repercussions.
Rather than pay the $70, Zimmerman challenged the legality of the court that was attempting to charge him. On March 4, 1904, a suit was filed in the Carter County Circuit Court challenging Beckham County's constitutional authority. Carter County Circuit Court found in favor of Beckham County. Carter County joined Zimmerman's case when appealing to the Kentucky Court of Appeals and on April 29, 1904, the decision was reversed, and Beckham County was in effect dissolved. [10]
As part of the new constitution passed in 1891, requirements were adopted for the creation of any new county. These included any new county needing to be over 400 square miles in size, that by its creation any new county would not diminish adjoining counties or parent counties to less than 400 square miles, and that any new county's border could not pass within ten miles of an existing county seat.
Counties established before this were exempt from these requirements. The relatively new constitutional requirements had been overlooked by the state legislative bodies as Beckham County was demonstrated to have violated all of the stipulations. [11]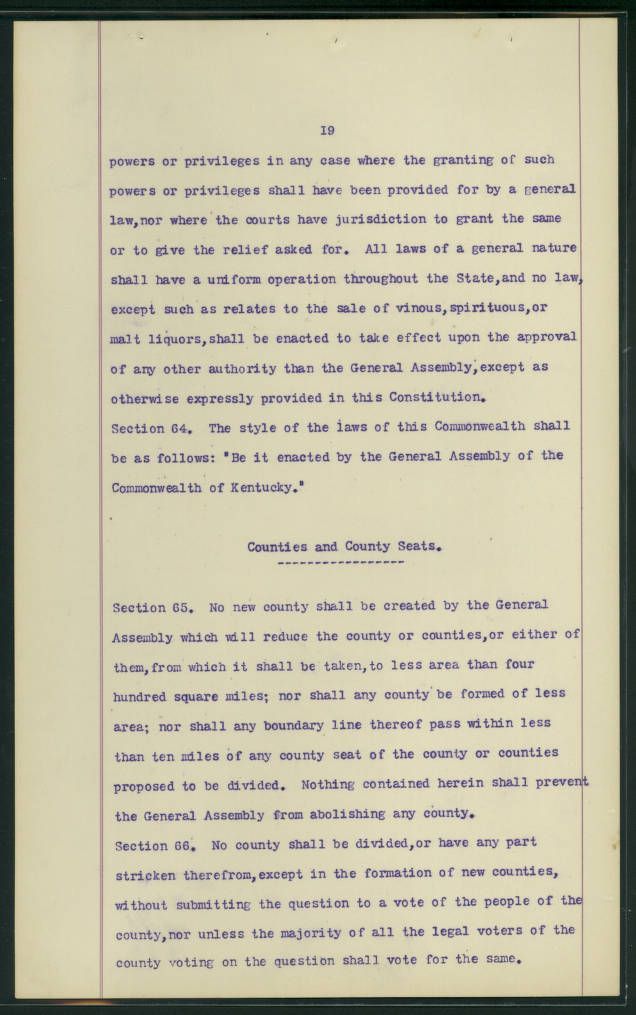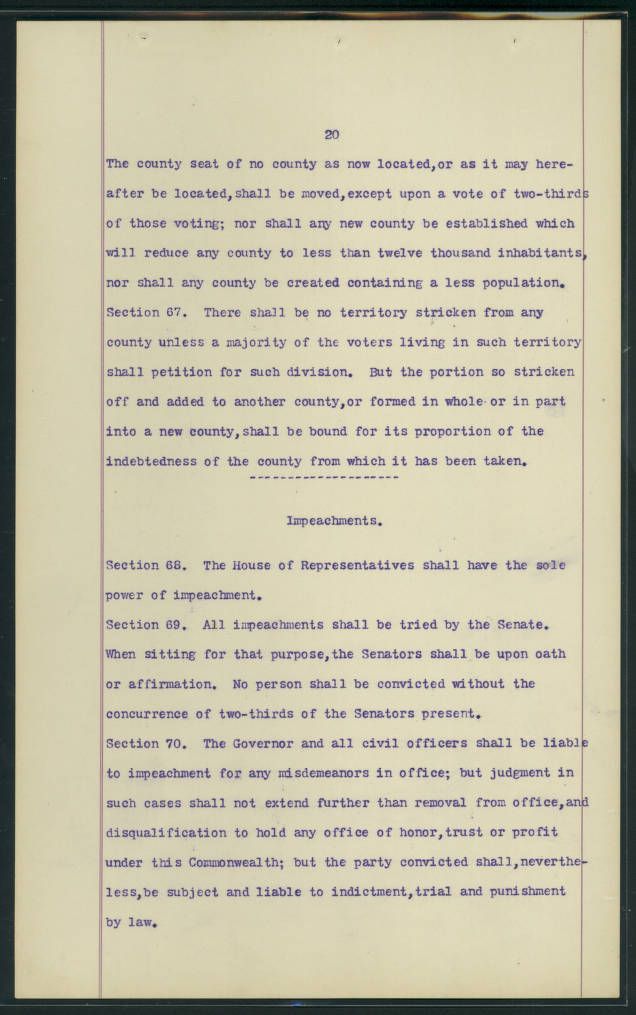 Reviewing Beckham County Vital Records
During the brief life of Beckham County, at least 24 marriage certificates were issued that are now preserved as part of Carter County's records. Court records like those of the original case involving Zimmerman were lost, much like Zimmerman himself. He appeared to have moved on from Olive Hill after this event though the circumstances or adventures he embarked upon remain unknown; he eventually died in Portland, Oregon, on February 25, 1924.
Brooks meanwhile remained a stalwart member of his community raising his family in Olive Hill.  They went on to celebrate life events like marriages and births in Carter County, as well as celebrating the life of their patriarch Chas Campbell Brooks upon his death on August 2, 1927. [12]
Research at the Kentucky Department for Libraries and Archives
The birth, marriage, death, military, and court records used to research the history of Beckham County and the characters who acted out parts in its story are but a small part of the archival collections available at the KDLA. The complicated history of Kentucky's counties can sometimes offer challenges finding the records documenting your ancestor's past. Always remember to ask in what county your past took place. Border disputes between counties, records that predate a county's creation, and trying to determine which parent county the records originated in, are some of the hurdles that you may encounter tracking down your family's story across Kentucky's 120 counties.
References
Ireland, Robert M. 1977. Little Kingdoms : The Counties of Kentucky, 1850-1891. Lexington: University Press of Kentucky.
Ireland. Little Kingdoms, 8.
Ireland. Little Kingdoms, 1.
Channing, Steven A. 1977. Kentucky : A Bicentennial History. The States and the Nation Series. New York: Norton.
To track the formation of Kentucky's counties and see the plethora of border disputes, check out the Atlas of Historical County Boundaries: https://digital.newberry.org/ahcb/map/map.html#KY ]
"A trip to Olive Hill, Ashland and Huntington," Mt. Sterling Advocate, August 1, 1899.
Acts passed at the 1904 session of the General Assembly of the Commonwealth of Kentucky. Kentucky: Kentucky General Assembly.
"Beckham County: Some facts and observations about the men who will preside over its interests," Mt. Sterling Advocate, February 17, 1904.
Ibid.
Carter County Civil Case / Case #10423: March 1904, C-12-C-3A Box 83, A1983-043.
1891 Kentucky Constitution, Section 65 Counties and County Seats.
Chas Campbell Brooks, Death Certificate. August 2, 1927.
Other Sources:
General Land Office Animated County Maps: https://www.sos.ky.gov/land/resources/Pages/Geographic-Materials.aspx
Beckham's Counties Pt. 5: Zimmerman vs. Brooks. https://byleeblevins.com/2019/08/19/beckhams-counties-pt-5-zimmerman-v-brooks/
Kentucky Court of Appeals, Zimmerman vs. Brooks. https://cite.case.law/ky/118/85/