The Kentucky Genealogical Society is transitioning to a new logo and branding to celebrate the upcoming 50th Anniversary in 2023. The new logo represents symbols that are central to the identity of the organization. The new logo will be gradually rolled out in communications, the website, in the merchandise store, and on social media.
Our New Logo Tells a Kentucky Family Story

Each part of the logo is symbolic of our Society.
The word Kentucky is presented in a font named Bulmer aptly created in 1792, the year of the Commonwealth's admission into the Union.
It was a trans-Atlantic collaboration created by type designers, including an American designer Morris Fuller Benton, who worked for American Type Founders. He was the most prolific type designer in America and produced over 180 types of great diversity. Bulmer is both distinctive and it honors the history of Kentucky.
A Tulip Poplar Tree Leaf (Liriodendron tulipifera) is the official state tree of Kentucky. The leaf represents Kentucky family trees and the personal nature of family history research. Tulip Poplars have quite a history in Kentucky.
They were the tree of choice of indigenous people who lived in present day Kentucky and used the tree to construct houses, furniture, paper, baskets, and canoes. They used parts of the tree as medicine to cure a whole variety of ailments including snake bites.
Frontier settlers preferred the tree to build flatboats, create kitchen utensils, and to build shingles, beams, and joints for home construction.
The two colors of the Leaf represent the changing seasons, old and new, and the shared Kentucky history genealogists have who research their ancestors.
The Quill in the heart of the leaf symbolizes recorders and intelligentsia. It represents the detailed and diligent genealogical research required by family historians to document and preserve ancestors and records.
The Zig-Zag line represents the links family historians document among generations through the application of genealogical research.
Combined together, the elements of the new logo tell a story of the Kentucky Genealogical Society and represent symbols of the Society's identity. The new logo honors the past of the organization, celebrates the present, and positions the Society for the future.
Introducing Our Fresh Color Palette
The new branding colors are ones that can be found related to the Tulip Poplar tree. They include: Historic Green (Pantone 349 C), Roots Green (Pantone 367 C), Shared Yellow (128 C), Tulip Red (158 C), Tulip Pearl (600 C), and Family Green (Pantone 7490 C).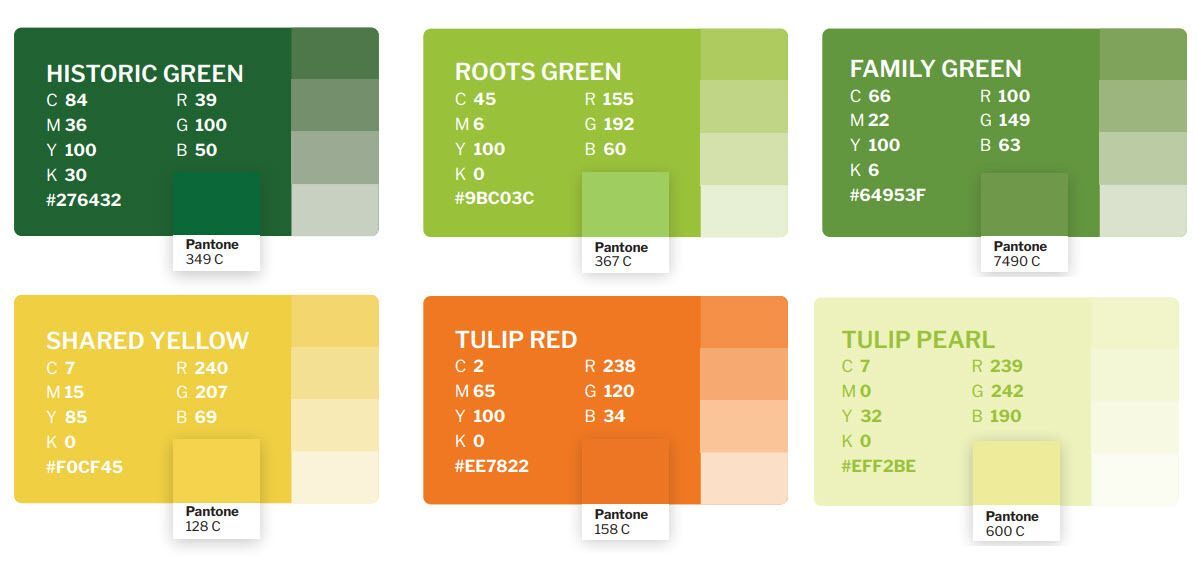 Style Guide to Inform Future Members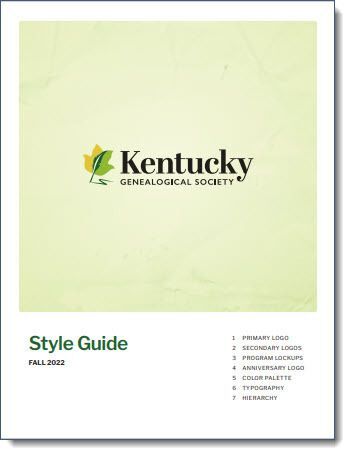 The Board of Directors approved a new Guide to Brand Standards for the Society. This is a guide current and future volunteers can use to ensure the logo and brand standards are applied consistently in marketing and communications for the Society.
The guide shares brand standards, fonts, and colors. It includes a special logo the Society can use to celebrate the 50th anniversary.