Identifying a Forgotten Soldier's Grave

With our upcoming seminar on the United State Colored Troops project, we reviewed old issues of Bluegrass Roots and found this jewel from 2007. 
---
Discovering the Forgotten USCT Grave
In May 2006, Kevin Brickey of the Lancaster Cemetery contacted me. While cutting grass in an older cemetery section, he found an old military headstone. Over the past few years, I worked with Kevin to mark the graves of other military personnel buried in the cemetery. Kevin hoped I could find information about this unknown soldier for a more proper memorial.
Using Clues to Identify a Forgotten Soldier
The only information that he could pass along was from two pieces of marble that he had recovered from the burial site. A smaller piece had the letter t and a larger piece of stone had these inscriptions: "emper", "Co. F", and "USCT".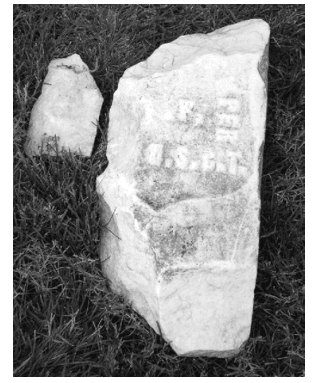 Kevin thought the last name was Kemper. We knew USCT meant he had been a soldier in the United States Colored Troops during the Civil War. 
With this information, I searched the Kentucky Historical Society Genealogical Research Library. Looking through the index of Union Soldiers of Kentucky, I located three Kempers who had served in the USCT. Through the process of elimination, I finally found Private Steven Kemper, Company F, 114th USCT. 
Private Kemper mustered into service at Camp Nelson. The pieces were falling into place. I combined the found information with the information on the stones. The "t" in Steven, the "emper" in Kemper, Co. F in Company F, and the USCT, representing the 114th USCT. 
Still uncertain if this was our man, I reviewed the 1870 Federal Census for Kentucky. I found black male named Steven Kemper living in Garrard County. It was a good sign that the man buried in the Lancaster Cemetery was the last resting place of forgotten Civil War soldier, Steven Kemper. 
From all indications Steven R. Kemper, originally born about 1822 in Maryland, had settled in Garrard County prior to the Civil War. Apparently his only absence from the community was when he entered the military service during the Civil War. Census records indicate he worked as a farm laborer. The census also showed that Kemper was married to Paulina, age 45, born in Kentucky.
A Civil War Soldier's Commission
But what of Steven Kemper's Civil War service? I requested Kemper's service record and pension records from the National Archives and Records Administration. The regiment organized at Camp Nelson, Kentucky, in July 1864. Kemper mustered into service as a private assigned to F Company, 114th USCT on June 18, 1864. The regiment saw duty at Camp Nelson and Louisa, Kentucky, until January 1865. 
On January 3, 1865, the army ordered the regiment to the Department of Virginia. While assigned to that department, they were involved in the siege operations against Petersburg and Richmond, Virginia, on the Bermuda Hundred Front until March 1865. 
During the Appomattox Campaign, the regiment was at Hatcher's Run, March 29-31, the fall of Petersburg on April 2nd, and pursuing General Lee's Army, April 3-9, 1865. The regiment was present at Appomattox Court House on 9 April 1865, when General Robert E. Lee surrendered his army. 
Private Kemper's military service did not end with the surrender of General Lee. The regiment went on duty at Petersburg and City Point, Virginia, until June 1865. While stationed at Louisa, Kentucky, Kemper became sick, over time his illness became worse until on June 18, 1865, while on duty at City Point, Virginia, he could not perform his duties. They took him to the federal hospital at Fortress Monroe, where he remained for six months. 
By the time of his release from the hospital they stationed his regiment at Brownsville, Texas, where they guarded the American border along the Rio Grande River with Mexico during the Maximilian Affair. He rejoined his unit on the Texas border. The 114th was one of the last US Colored regiments in the Army system, mustering out of Federal service on April 2, 1867. 
Kemper's Life after the War
Records indicate that Kemper was honorably discharged from the service at Brazos Santiago, Texas, April 2, 1867. Following his military service Steven Kemper returned home to his wife, Paulina, and daughter Mary, in Lancaster. The 1880 census shows they added two children: a son, Loatch, and another daughter, Rosa. His time in service had taken a heavy toll on his health, and eventually he became totally disabled and unable to work. 
In February 1886, he filed a pension, for service-connected illnesses, rheumatism, disease of the heart, and partial paralysis. They granted his request in 1888, and he would eventually receive $24 per month until his death. 
Steven Kemper died at his home in Lancaster on April 20, 1902. They buried him in the city cemetery. A military headstone marked his final resting place. His stone fell over and was covered by soil, eventually hiding all indications of his grave. 
Honoring Kemper's Military Service
On April 28, 2007, 105 years after his death, we conducted a ceremony in the Lancaster Cemetery to re-mark the final resting place and honor the military service of Private Steven Kemper.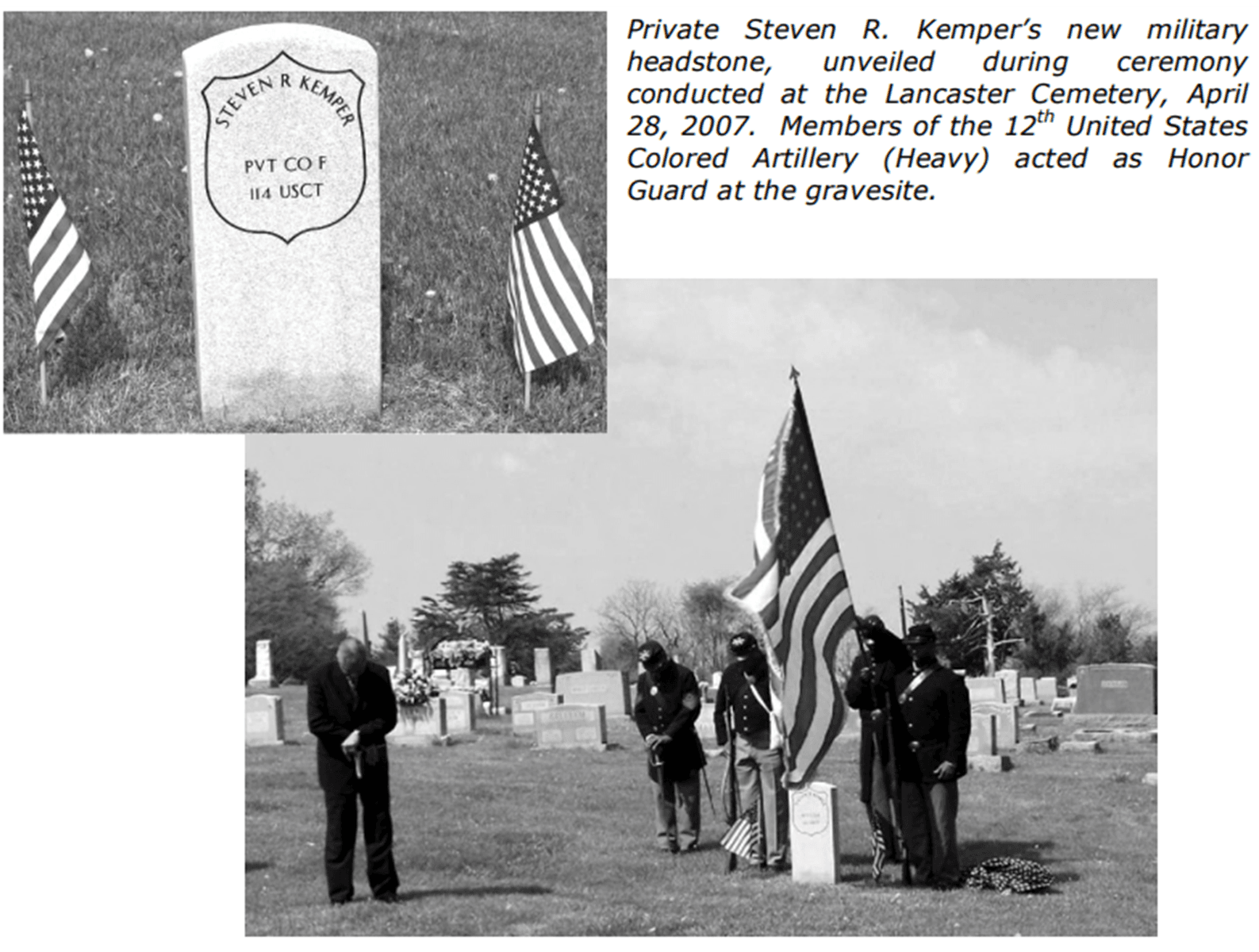 Few records have survived that help tell the story of Stephen Kemper's life. Yet, we know he answered the call of his country; he saw the opportunity to fight for his freedom, the freedom of his family, his race, and the preservation of our nation. 
His military service had a high cost on his health for the rest of his life. Through the efforts of a few individuals, now, our generation and future generations can look upon this once forgotten and nearly lost grave, the grave of an American soldier. 
Editor's Notes
The United States Colored Troop has a website with searchable archives.
About the Author
John M. Trowbridge wrote this post for the KYGS Bluegrass Roots in the Winter of 2007. Trowbridge is a Kentucky Guardsman and Command Historian emeritus.
More Bluegrass Roots Content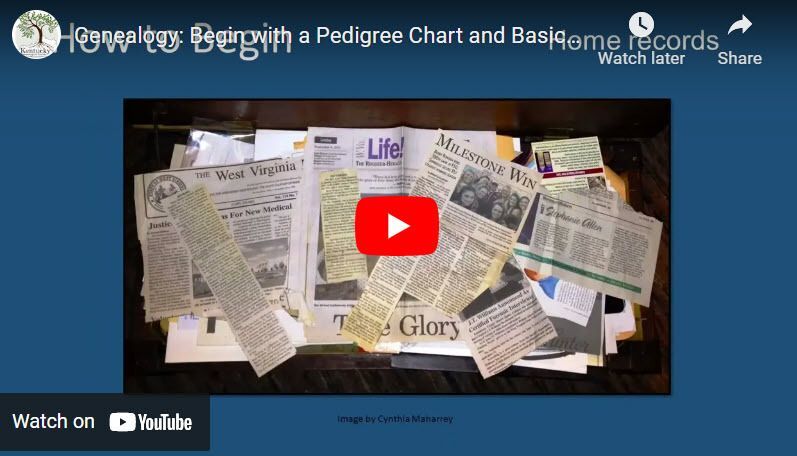 Professional genealogist Cynthia Maharrey explains how to get started with your family history by creating a pedigree chart. Then she explains how obituaries help complete the picture.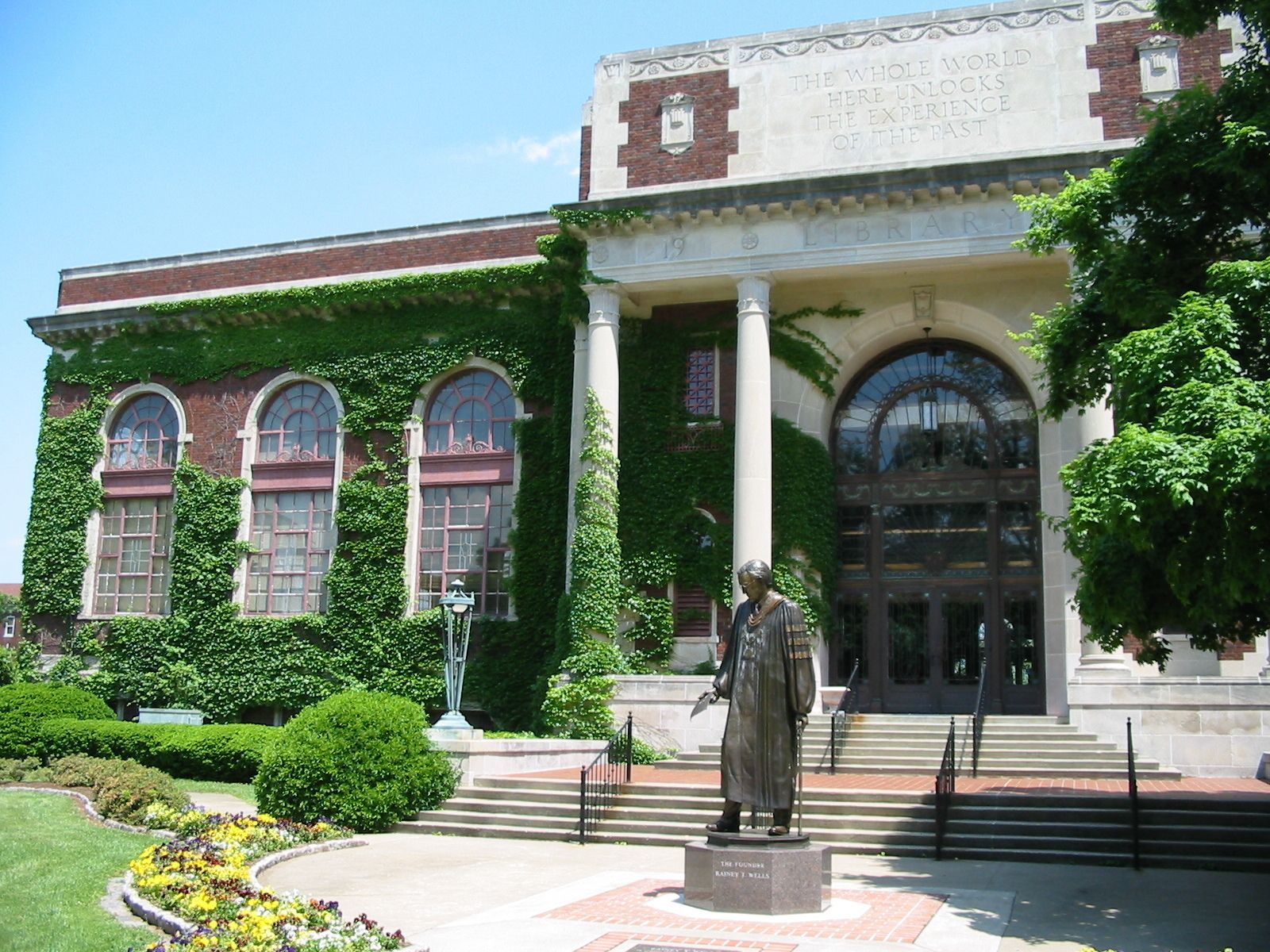 Pogue Library, on the Murray State University campus, has many genealogy records for those searching for western Kentucky ancestors.