Moving from the Tidewater: Westward Migration in the British Colonies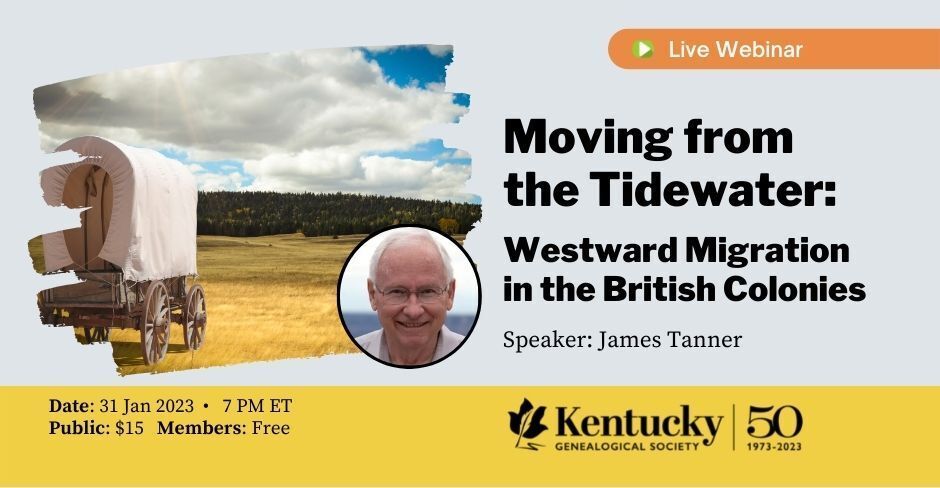 Genealogists with ancestral ties to the early British Colonies in North America often encounter major challenges tracing their ancestors' movements during the westward expansion from Tidewater, the area of river navigation, to the interior or Piedmont and even greater difficulty if the ancestors moved into the mountains.
Beginning with the first settlements, Moving from the Tidewater-Westward Migration-Westward migrations in the British Colonies by James Tanner gives you an overview of the important population movements and their effect on genealogical research through land records, settlement patterns, boundary changes, and other important factors, including the origin of the major immigrant groups. Come and learn about this vital part of researching back into our colonial past.
Speaker:
James L. Tanner has more than thirty years' experience as a research genealogist. He presently serves as a volunteer at the Brigham Young University Family History Library in Provo, Utah, where he assists patrons and teaches classes. He is a retired attorney with more than 30 years of experience.
Cost
-Registration fee is $15
-Free to Members
Kentucky Genealogical Society members use the email address associated with your membership account and the discount code: MEMBER during registration to register for free.
-Not Yet a Member?
If you're not yet a member, join now and access many webinars like this one that you can view on-demand.
Go to http://www.kygs.org/join.html to become a member for just $20 annually.