Kentucky's US Colored Troops Project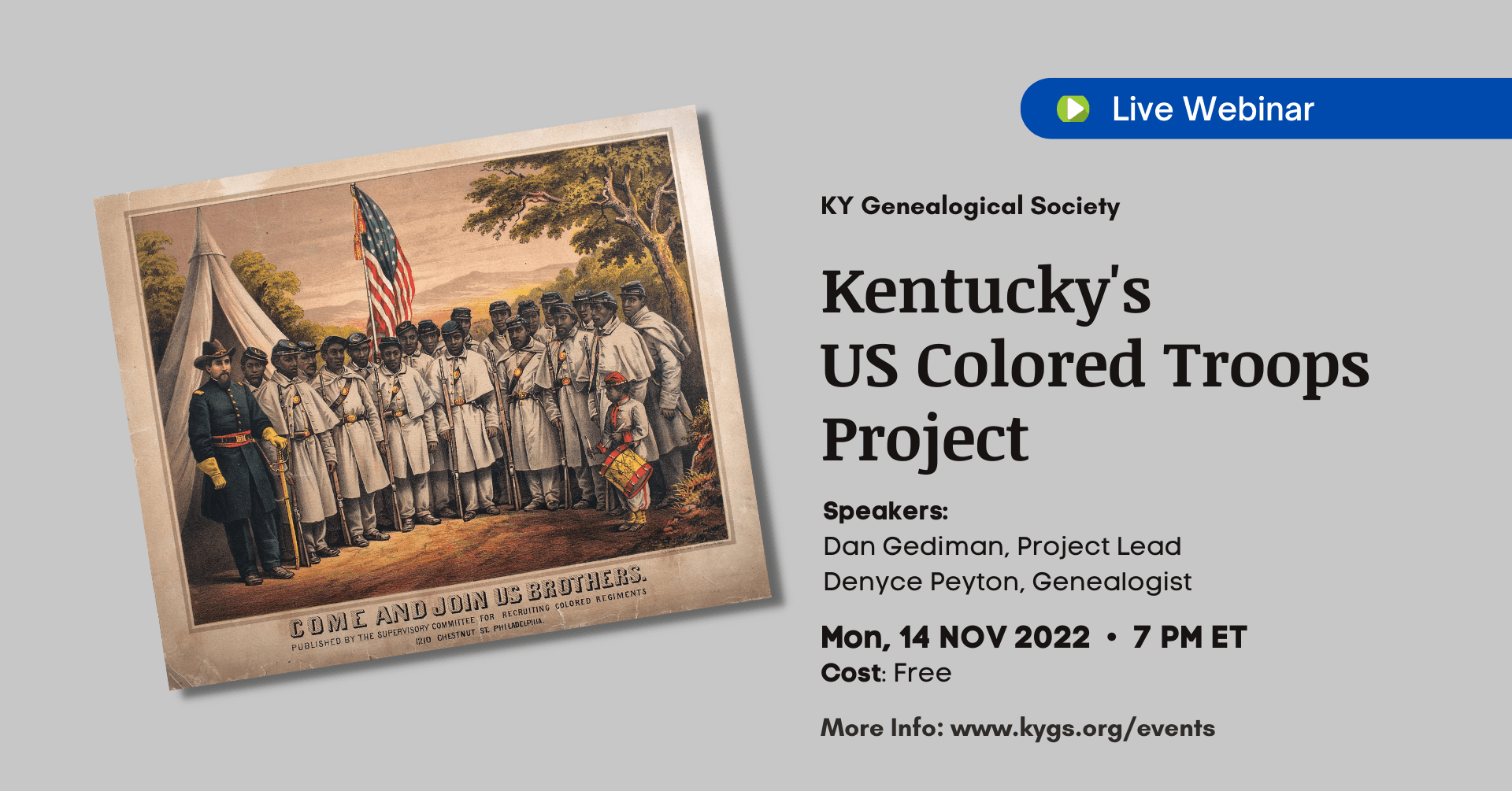 During this presentation, Dan Gediman will share an overview of the Kentucky U.S. Colored Troops Project, its beginnings, and accomplishments to date. Denyce Peyton will share research the project team's done, key discoveries made, and how this work impacts the entire Kentucky genealogical community.
The past year has shown the work impacts much more than Kentucky U.S. Colored Troops soldiers and their possible descendants. The soldiers researched had relationships with enslavers prior to enlistment, and the research has uncovered interesting stories of the former enslavers and their families. This has become larger than a project solely focused on U.S. Colored Troops and is more a Kentucky genealogical story which demonstrates the soldiers and former enslavers provide a more comprehensive picture of Kentucky genealogy.
Do not bypass this presentation if you feel on the surface it is just an African-American focused story. Research examples will show the impact on a more diverse historic Kentucky demographic.
Dan Gediman is executive director of Reckoning Inc., a 501(c) nonprofit organization whose mission is to examine the legacy of slavery in America, and to create ways for communities to engage with this information through research projects, media productions, educational curricula, online content, and other means. He is also a public radio producer whose work has been featured on programs such as This American Life, All Things Considered, and Morning Edition
Denyce Porter Peyton is a professional genealogical researcher with over 25 years of experience. She is a long-time member of the Association of Professional Genealogists, National Genealogical Society, and state and county societies in Kentucky and Ohio. She has contributed research to an episode of Henry Louis Gate, Jr.'s PBS series "Finding Your Roots." Denyce is a Kentucky Genealogical Society member and co-chair of the nominating committee.
This webinar is free to attend.