Here are the upcoming webinars we have planned. Make sure you sign-up for our newsletter so you get the most recent announcements. The sign-up link is at the bottom of the page.
Community Research Using the National Register of Historic Places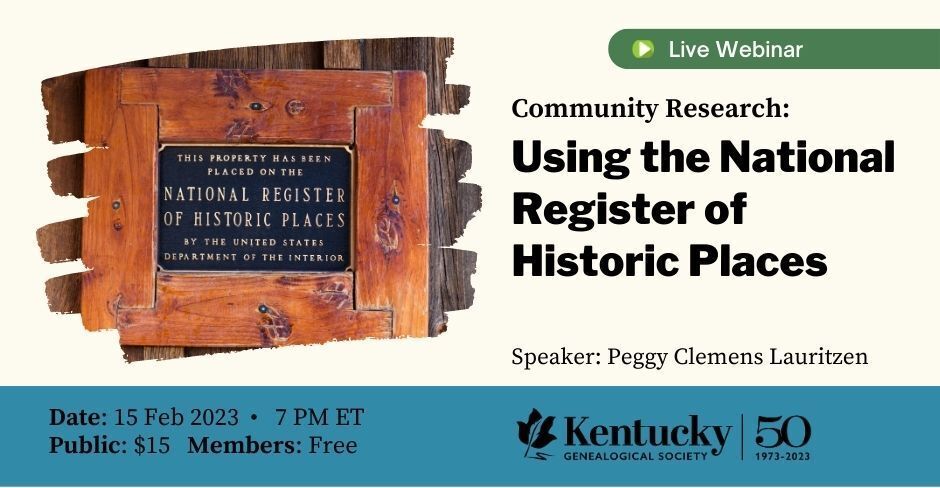 The National Register of Historic Places and the Historical Marker Database are familiar sites across the United States, and even the world. How can they be used for genealogical research?
A few years ago two genealogists met over lunch to discuss a common genealogy dilemma. The ideas began tumbling around, and soon each was using a different site to solve a research question. This presentation will take you through the steps of discovering the areas where you ancestors may have lived, and the necessary proof to have them registered. Those historic markers by the side of the road may contain a history of the area they lived, and perhaps even mention them by name.
Speaker Peggy Clemens Lauritzen
Cost
-Registration fee is $15
-Free to Members
Kentucky Genealogical Society members use the email address associated with your membership account and the discount code: MEMBER during registration to register for free.
-Not Yet a Member?
If you're not yet a member, join now and access many webinars like this one that you can view on-demand.
Go to http://www.kygs.org/join.html to become a member for just $20 annually.
Waverly Hills Sanitorium: a History
The Waverly Hills Sanatorium is a former sanatorium located in Jefferson County, Kentucky.
In the early 1900s, Jefferson County was ravaged by an outbreak of tuberculosis – known as the "White Plague" – which prompted the construction of Waverly Hills Sanitorium. The hospital closed in 1961. There were original plans to turn the abandoned hospital into a hotel, but that is no longer the case. Learn more about the patients and history of this building.
Speaker: Lynn Pohl