You'll always know what's going on with our organization.
Just bookmark this page and check back often for the latest programs and events.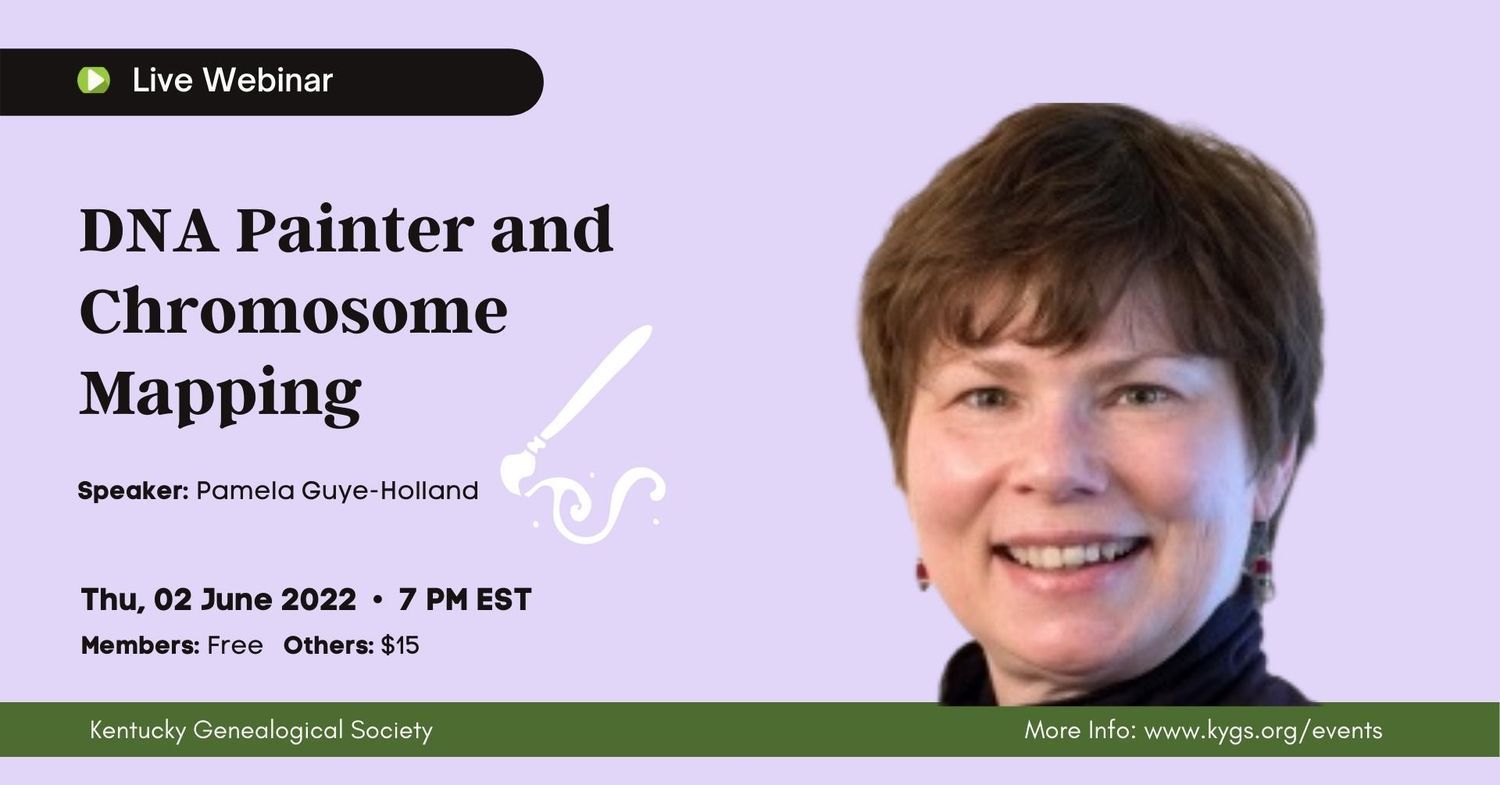 DNA Painter is a colorful, easy-to-use tool for understanding the chromosome segments you received from an ancestor. This free programs lets you map DNA segments and assign or "paint" them various colors on your different chromosomes. Learn how to create a chromosome map for your own research using DNA results from FamilyTreeDNA, 23andMe, MyHeritage or GEDmatch. Please note that AncestryDNA cannot be used in DNA Painter unless you have transferred your results to GEDmatch.
Pamela Guye Holland is a professional genealogist located in Swampscott, Massachusetts. Her research specialties are Irish and Genetic Genealogy. She also has expertise in New England, New York (both city and state) and German research. Pamela has been conducting genealogical research since 2001 and she works with private clients, as a Research Services genealogist at the New England Historic Genealogical Society, and as a Green Room genealogist for Your Irish Heritage.
Costs
Registration fee is $15
-- Free to KYGS Members
Kentucky Genealogical Society members use the email address associated with your account
and the discount code: MEMBER during registration to register for free.
-- Not a Member?
If you're not yet a member, join now and access free programs like this one and dozens of others programs you can view on-demand.
Go to http://www.kygs.org/join.html to become a member.
Annual membership starts at just $20 for a full year of exceptional genealogy programs, tools, and resources.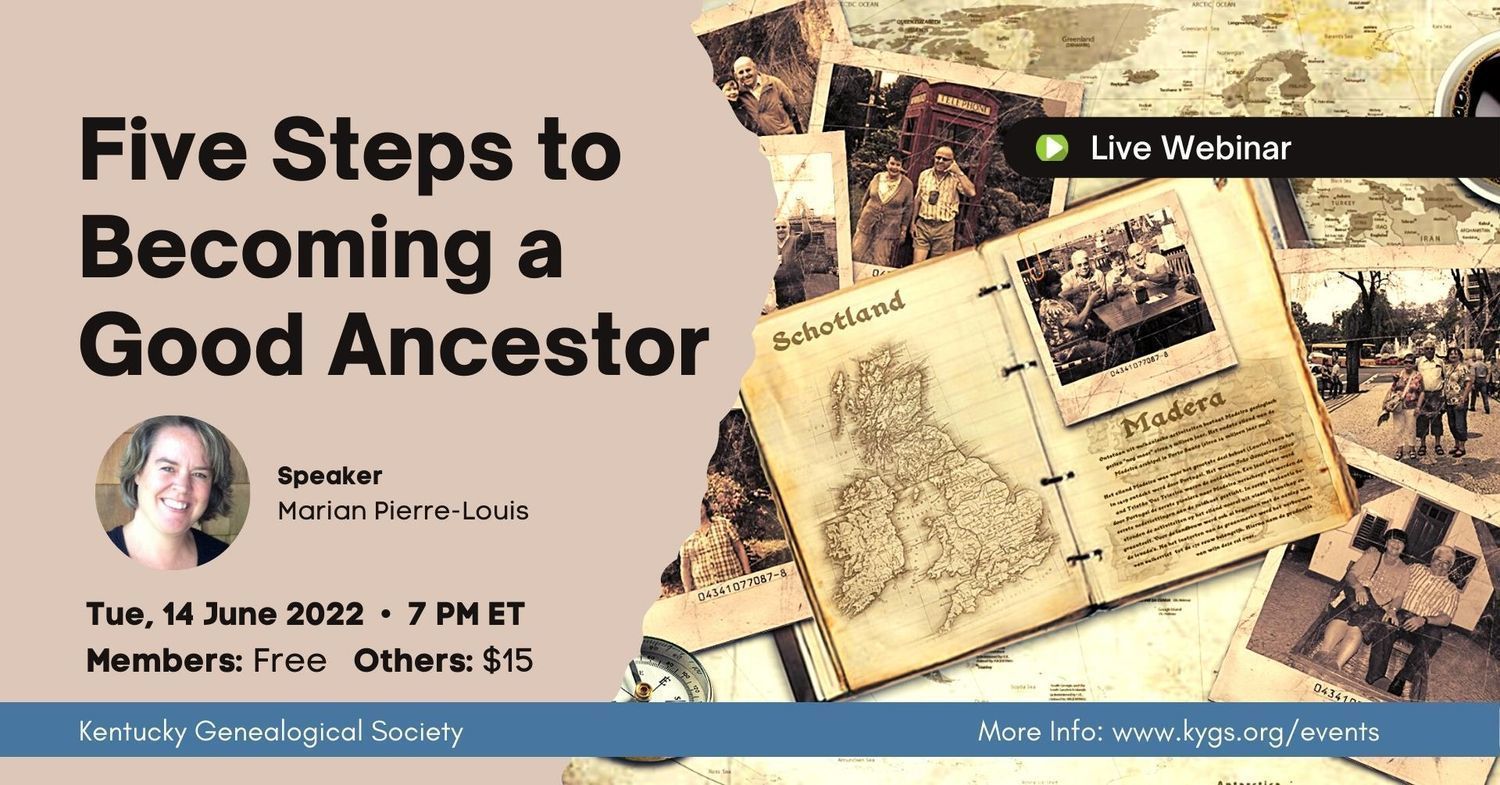 Genealogists are very good at researching and learning about their ancestors lives. But sometimes they forget that it is important to provide information about themselves for their own descendants. In this presentation we'll provide five ways to leave traces of yourself (and your research) for those who come after you.
Marian Pierre-Louis is a genealogy professional who specializes in educational outreach through webinars, internet broadcasts and video. Her areas of expertise include house history research, southern New England research, and turning genealogy into multi-media projects. She is the host of the Genealogy Professional podcast, a show committed to helping genealogy professionals become better businesspeople. Marian is the Online Education Producer for Legacy Family Tree Webinars where she produces online genealogy education classes.
-- Free to KYGS Members
-- Not a Member?
If you're not yet a member, join now and access free programs like this one and dozens of others programs you can view on-demand.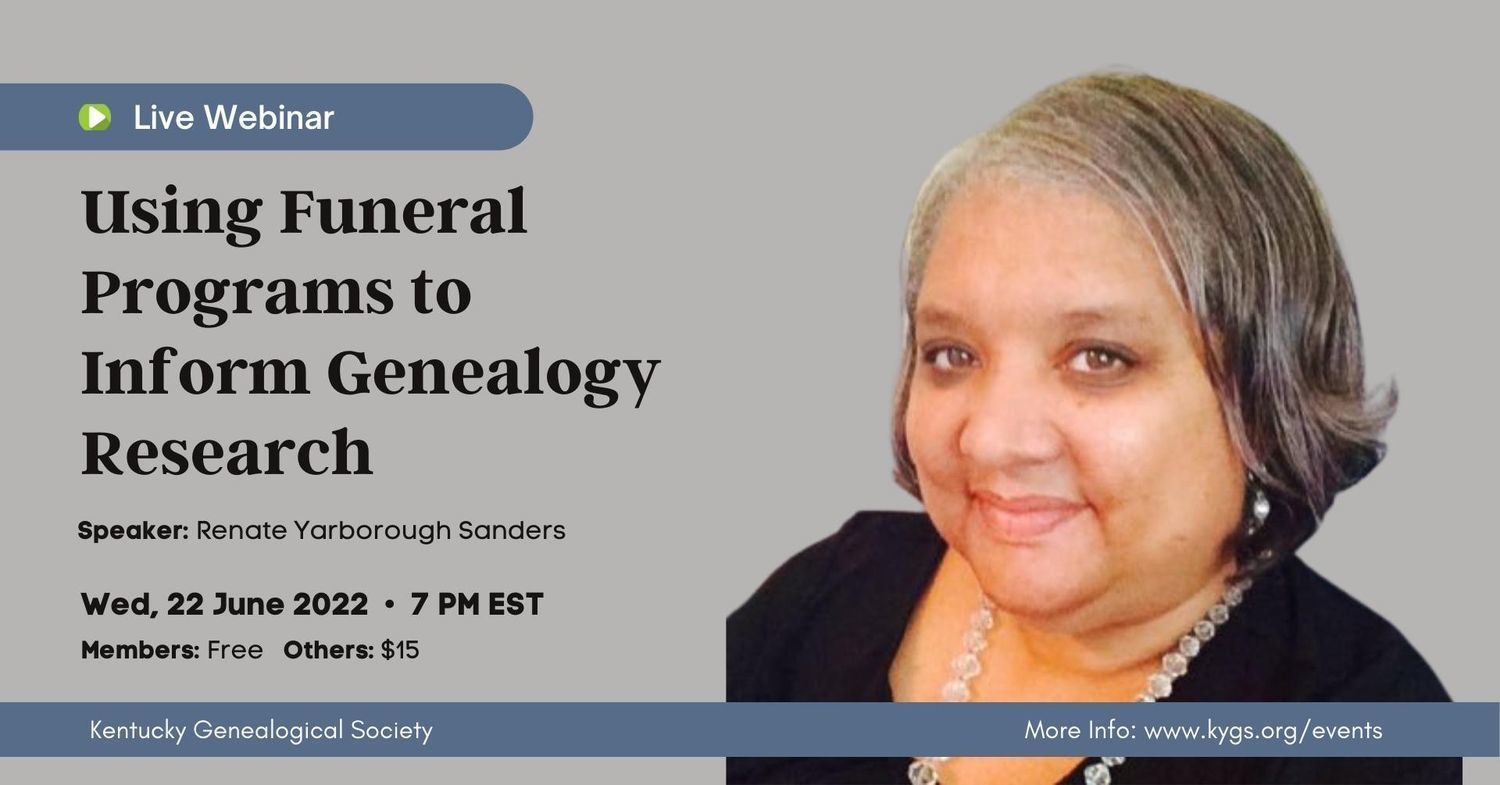 Funeral programs are biographical documents that preserve the history of a deceased person. The presenter will dissect the parts of commonly used funeral programs, modeling how to extract important genealogical information and clues from these valuable documents.
Renate Yarborough Sanders has been engaged in genealogy research since 1997 and has been giving genealogy related presentations, to a variety of audiences, since 2012. She is the descendant of formerly-enslaved ancestors, as well as enslavers and free people of color. Renate is the author of two blogs: "Into the LIGHT", which focuses on her own family history; and, "Genea-Related", which is a platform for presenting a variety of information of genealogical interest. Renate also produces a "(Mostly) African-American Funeral Programs" online database, in which she publishes vital data extracted from funeral programs.